Influencing workplace culture
What can you do to address workplace culture? Consultation is key to understanding and addressing workplace culture.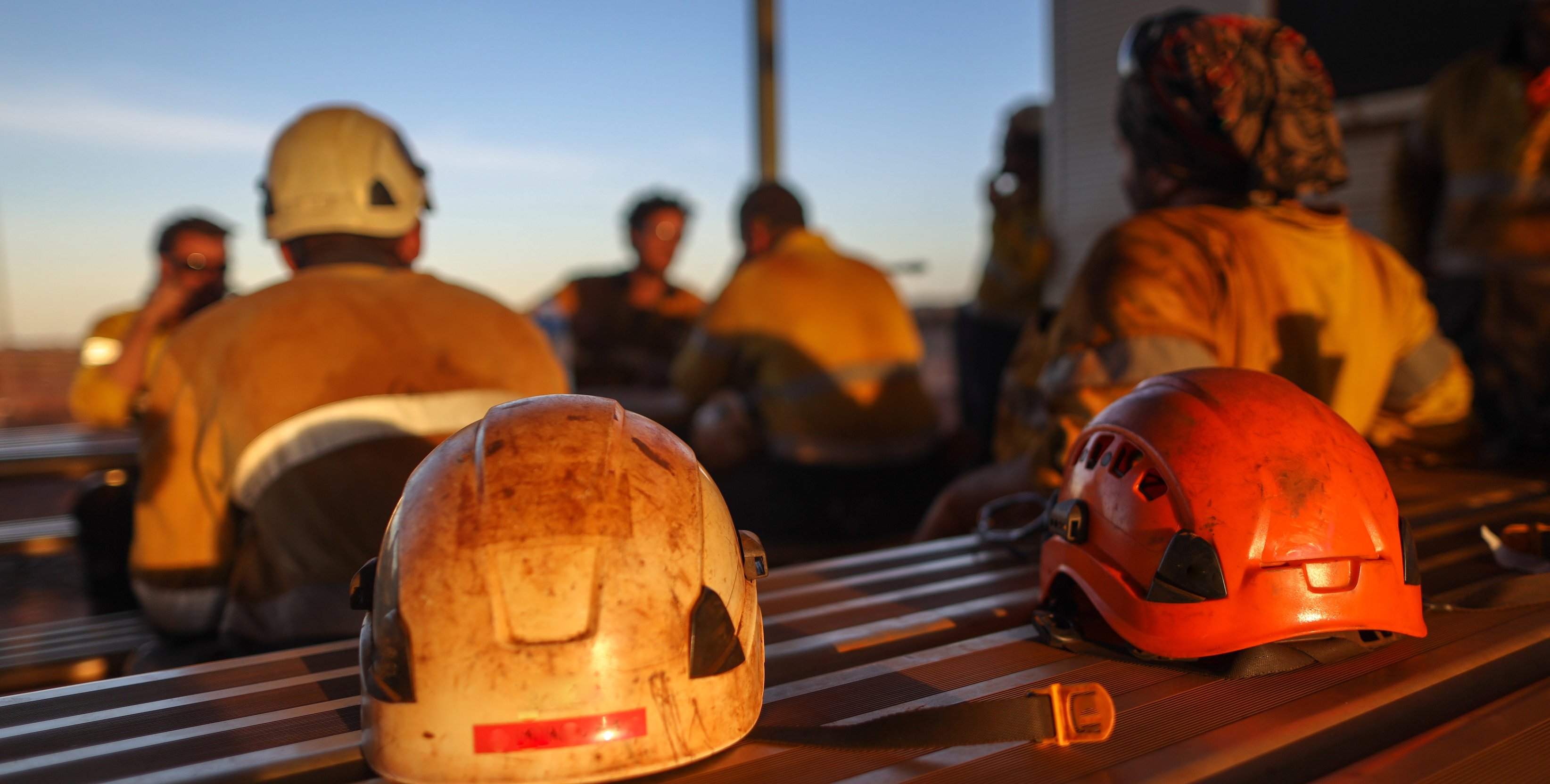 Once the current culture and context is understood, the next step is addressing gaps and building on strengths to develop a diverse and inclusive, gender-equal workplace with values of trust, respect and integrity. This section focuses on four priorities to address culture challenges and set the foundation for lasting change to prevent and reduce sexual harassment:
Core values
Commitment to diversity and inclusion
Policies and procedures 
Human resource practices   
Dealing with backlash
In considering these priorities, organisations should be aware that cultural change initiatives, including initiatives aimed at achieving gender equality in the workplace, may be perceived as unfair and met with a negative or hostile reaction known as backlash. Attempts to achieve gender equality and reduce sexual harassment in the workplace have led, in some cases, to male workers and leaders withdrawing from their female colleagues, out of fear that an allegation of sexual harassment will be made against them. Organisations need to prepare for backlash as they introduce gender equality and sexual harassment strategies in the workplace, in an attempt to positively change culture.
VicHealth and Male Champions of Change and Chief Executive Women have identified and developed resources to provide employers with practical guidance on managing backlash to gender equality in their workplaces. 
The (En)countering resistance: Strategies to respond to resistance to gender equality initiatives report from VicHealth draws together some effective tools and strategies to prepare for and respond to backlash and resistance to gender equality initiatives. It's intended to support the people working for gender equality in a range of sectors – education, sport, workplace, local government, health and media.
Resistance is defined as an active pushing back against progressive programs, policies and perspectives.
It's important to plan for and expect resistance at some stage in the process of cultural change. Cultural norms and behaviours can be deeply embedded and threats to the way things are done around here can vary greatly - from passive blocking to aggressive opposition. In many ways, encountering resistance is an indication that you are starting to get results and existing structures and beliefs are being challenged. 
The diagram below comes from (En)countering resistance: Strategies to respond to resistance to gender equality initiatives from VicHealth and illustrates the range of resistance often met when promoting gender equality. You can download the full report here.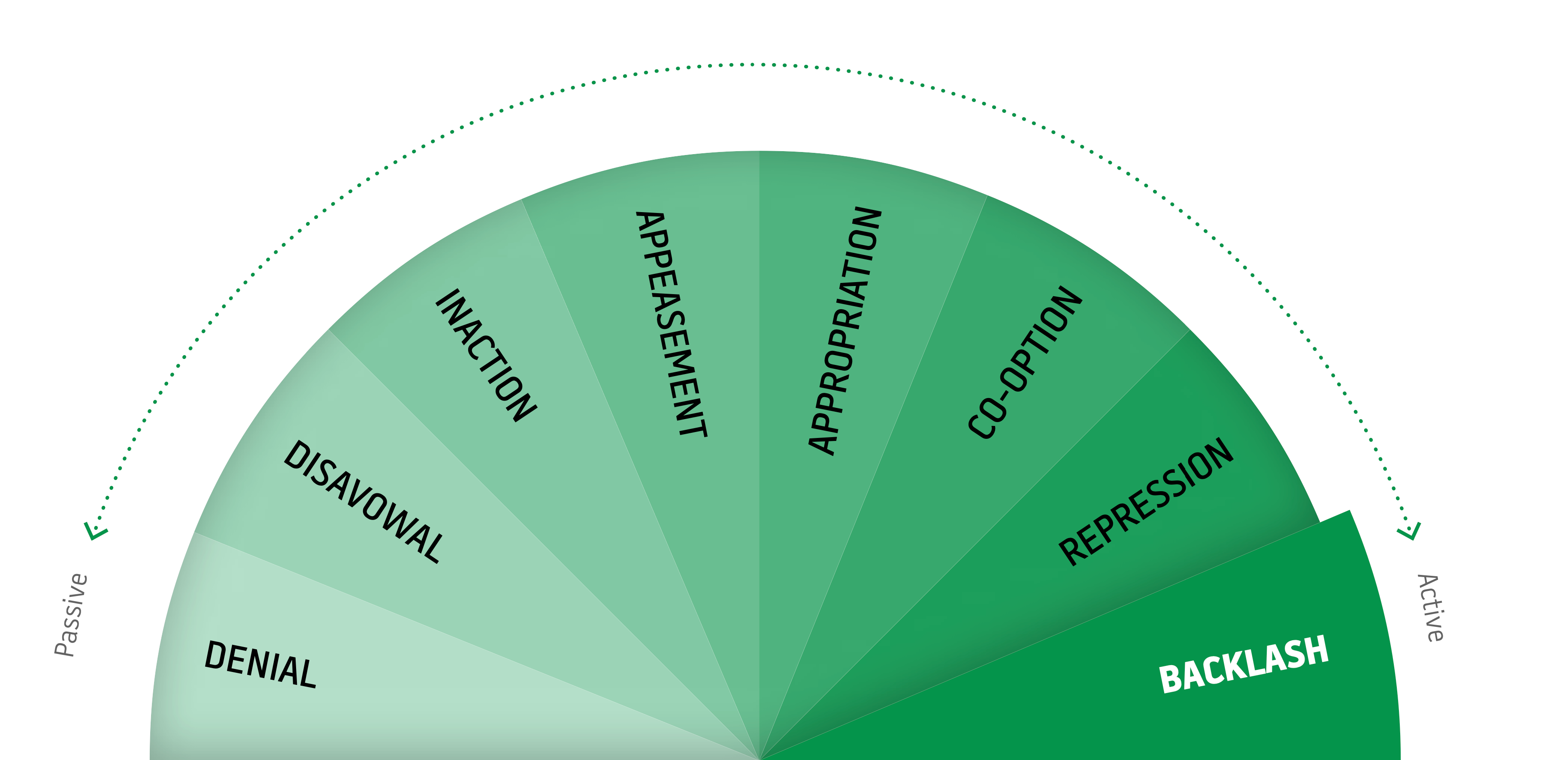 DENIAL - "There's no problem here." Denial of the problem or the credibility of the case for change. Blame the victims.
DISAVOWAL - "It's not my job to do something about it." Refusal to recognise responsibility.
INACTION - "It's not a priority right now." Refusal to implement a change initiative
APPEASEMENT - "Yes. Yes. We must do something (one day)." Efforts to placate or pacify those advocating for change in order to limit its impact.
APPROPRIATION - "Of course we'd appoint more women, if only they were more experienced." Simulating change while covertly undermining it.
CO-OPTION - "What about men's rights? Men are victims too, you know." Using the language of progressive frameworks and goals for reactionary ends.
REPRESSION - "We tried that once and women didn't want to take up the promotion/training/ opportunity." Reversing or dismantling a change initiative.
BACKLASH - "These feminists deserve all the abuse they get." Aggressive, attacking response.  
The Backlash & Buy-In: Responding to the Challenges in Achieving Equality report from Chief Executive Women and Male Champions of Change, identifies underlying drivers of resistance, describes how resistance may manifest and explains what leaders can do to address resistance and advance gender equality.
In 2015, the Victorian Human Rights and Equal Opportunity Commission published its Phase 1 report on its review into sexual harassment in Victoria Police. The report warned of possible backlash, stating that 'a careful and comprehensive employee engagement process' was needed 'to ensure that women are not targeted, ostracised or discriminated against' while Victoria Police implemented the review's recommendations. You can view the case study on Victorian Police here.
During the National Inquiry the Australian Human Rights Commission heard concerns that addressing sexual harassment as a gender equality issue may cause men in the workplace to feel blamed, and therefore unwelcome to engage in discussion or contribute their perspectives. For example, Consult Australia warned that:
The conversation about gender equality, and subjects such as sexual harassment in the workplace, too often does not include men in the room, or worse by naming and shaming inappropriate behaviours without consideration of how our culture contributes to, and upholds them. By not authentically engaging with men, we run the risk that measures to overcome sexual harassment will create backlash and potentially cement traditional views.
This highlights the importance of ensuring there are initiatives designed specifically to ensure men are educated about the numerous benefits of gender equality. The Engaging Men Action Group aimed to foster gender equality across several Consult Australia firms through a half-day, interactive session for male leaders in construction, using a 'personal, experiential strategy informed by cultural transformation, engaging men and brain neuroplasticity research'. You can view their case study here.   
Core values
Values of trust, respect and integrity are most effective at preventing sexual harassment and improving organisational responses when incidents occur. These attributes should be reflected in a set of core values for your organisation that clearly communicates acceptable and unacceptable behaviours and provides a filter for making decisions.  
Clarify core values and behaviours
Work with people across your organisation to clarify core values. Explore:  
What values represent us at our best?
How do we demonstrate these values through our actions? 
How do these values guard against sexual harassment and reinforce trust, respect and integrity? 
A consultative approach will build collective ownership  and make sure that the organisation's core values are communicated in a meaningful way and reflect your commitment to address sexual harassment. 
As part of this process, it is important to communicate expected behaviours. Expected behaviours should describe how to demonstrate the values in action and reflect a commitment to equality and respect. 
It is also important to clarify behaviours that are unacceptable and inconsistent with your values. Sexualised jokes, banter and comments are examples of this.  The Champions of Change Coalition has produced a practical guide for "Addressing everyday sexism" with actions to address these types of inappropriate behaviours.  
Communicate clear accountabilities and consequences
Make sure your people understand the core values and behaviours, how these are relevant to their role, and the consequences of inappropriate behaviours. Use your management systems and practices to reinforce clear accountabilities and consequences.    Equip your leaders to role model and reinforce the core values. People pay attention to the behaviours that leaders role model, recognise and reward.  
Commitment to diversity and inclusion
While gender inequality is a key driver of sexual harassment, there are other forms of discrimination and disadvantage that increase the risk of sexual harassment for minority or marginalised groups in the workplace – this is the notion of intersectionality. 
Intersectionality is a complex issue. Essentially, intersectionality recognises that gender inequality and sexual harassment exists as a result of many different forms of discrimination - sexism, racism, colonialism, classism, heteronormativity, cisnormativity, homophobia, bi- and transphobia, ableism and ageism; and their corresponding systems of power and privilege. These different forms of discrimination, and the way they interact, create systems of structured inequality, characterised by the unequal distribution of power, wealth, income and social status. As the UN Committee on the Elimination of Discrimination against Women (CEDAW) states:  
The discrimination of women based on sex and gender is inextricably linked with other factors that affect women, such as race, ethnicity, religion or belief, health, status, age, class, caste and sexual orientation and gender identity. Discrimination on the basis of sex or gender may affect women belonging to such groups to a different degree or in different ways to men.
An organisation that promotes and embraces workplace cultures that are diverse and inclusive will be well placed to address intersectionality. A more diverse and inclusive workplace will help eliminate the intersecting forms of discrimination that can occur in the workplace. 
Go to our Diversity and Inclusion section to find out more.  
Policies and procedures
Workplace policies have long been the backbone of organisational strategies to prevent sexual harassment. While a policy alone does not prevent sexual harassment or significantly affect workplace change, when integrated with broader cultural programs, policies remain an integral element in an organisation's overall prevention framework.
Go to our section on the role of policy on workplace culture to find out more.
Human resource practices
Internal management practices are important to achieve and reinforce your desired culture. There are a range of tactics that you can use throughout the employment cycle to prevent sexual harassment or reduce the risk of it occurring in the workplace. For large organisations with separate teams responsible for risk, HR, finance etc, a cross-functional approach is required to ensure functions are working together to align people management practices to ensure cohesion and bring them to life in a collaborative way.
Go to our section on Human Resource Practice to find out more.