Celebrating positive behaviours in organisations
Celebrating positive behaviours is a very powerful way to promote safe, inclusive and respectful workplaces.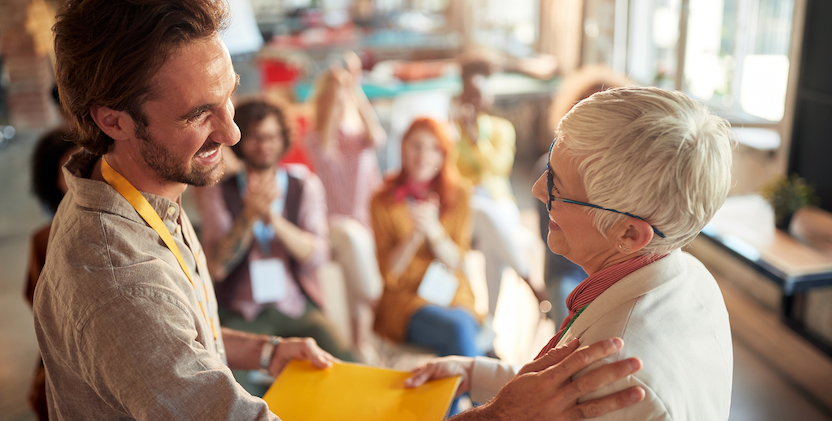 One very powerful way to promote safe, respectful and inclusive workplaces is to openly celebrate and acknowledge workers who demonstrate and engage in good practice and take active steps to prevent and respond to workplace sexual harassment.
You can recognise and reward positive behaviours by:
Promoting channels for people to speak up. Ensure that workers are aware of and understand that there are appropriate processes and channels in your organisation that allow people to speak up. 
Developing remuneration packages that reward effective management of both financial and non-financial risks, including rewarding leaders who act to prevent sexual harassment and develop a respectful workplace.
Promoting strategies aligned to your organisation's values.  
Celebrating Workers
Start an employee recognition program - if you do not already have one, start an 'employee of the week/month/year' recognition program where workers can submit their nomination each month. Provide a few simple guidelines on how to do this and what attributes you are looking for. Ensure that positive and respectful behaviours is one of the attributes you are looking for in the recognition program.
Nominate workers for awards - nominate workers for internal and/or external awards and communicate and celebrate nominations within your organisation. These could be industry awards or more generic awards. 
Casual recognition - take the opportunity at meetings, forums and conferences to recognise and acknowledge workers who have demonstrated respectful and inclusive behaviours. 
Provide perks - these could include, discounts and benefits specifically related to employees who demonstrate respectful and inclusive behaviours. There are platforms that can help to automate these schemes, such as Perkbox.  
Take a look at the toolkits, guidelines and other resources that are designed to help promote diversity and prevent discrimination in your workplace.