Micro and social learning
This section looks at Micro and social learning as an effective education approach organisations can use to address workplace sexual harassment.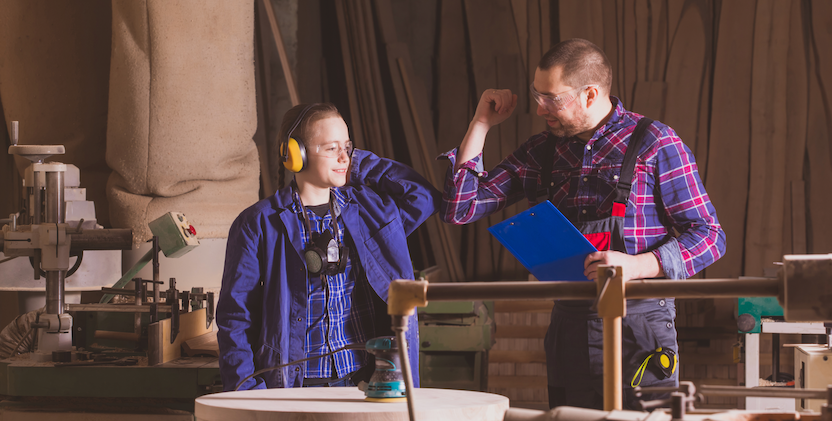 Effective sexual harassment education happens not only in training or during one-off conversations. It happens everywhere – openly, regularly and with the continued support of leaders. This is the concept of micro learning and social learning.
Micro learning is education delivered through short activities, spread across a period rather than relying on a single learning event. It is a continual approach that helps to keep important messages alive after training and policy implementation. It has been proven to boost engagement, absorption and retention of information, and allows time to practice and embed the new skills learned. It also has the benefit of being flexible and is often inexpensive to create and deliver.
Social learning is learning by observing other people and is based on the notion that people learn by observing the behaviours of others and through the power of storytelling. Leaders openly communicating about sexual harassment, and continually modelling expected workplace behaviours, is therefore an important social learning tool. 
These approaches are particularly effective for driving a culture of trust where respectful discussions about preventing sexual harassment are normalised (similar to the way in which addressing other workplace health and safety hazards is now part of 'business as usual' in many organisations), and where policies and procedures are brought to life. 
Micro learning modules have been developed specifically for Respect@Work. They include: 
Below are some example tools and resources available online to support social and micro learning initiatives addressing workplace sexual harassment. You can also visit the Respect@Work Resource Hub and search for further resources there.
Social learning tools and resources
Conversations
Regular engagement with workers in open and respectful conversations about drivers of sexual harassment, what it looks like and prevention. This could be done in 1:1 meetings, team meetings or with a larger audience. There are online resources available to support conversations, including:
Clear messages from Board and leaders
Boards, Directors and company leaders should provide clear and unambiguous zero tolerance messaging – and back their words with actions.
Mentoring, coaching and counselling
This can include leaders mentoring or counselling their teams. Peer-to-peer mentoring is also useful in addressing resistance.
Social networks and advocate groups
The Champions of Change Coalition encourages leaders to contact the group to join or start a new Group as a cross industry group or industry specific group.
Micro learning tools and resources
Company Town Halls or CEO Talks
Senior leaders and CEO discussing workplace sexual harassment to your whole organisation – for example observations, shared learnings, progress against action plan.
Board communications or updates
Board members providing updates on the organisations strategy and activities to prevent and address sexual harassment.
Team meetings
Protect time in meetings for micro-learning. Examples include: knowledge sharing of a particular case, sharing experience, roleplaying bystander scenarios and how to respond, watching a video and then discussing themes and takeaways. 
Emails
As the largest communication tool within many organisations, email communication is a key way that to distribute information and create awareness of sexual harassment through a micro learning approach. VicHeath have developed a guide for organisations to implement a social norms email campaign encouraging bystander action to act on sexist and sexually harassing behaviours while working remotely. 
Company newsletters
Communicate through company-wide newsletters to increase awareness or provide information about sexual harassment. This could be in the form of short pieces from leaders, shared experiences (where appropriate), significant facts or figures, short quizzes on facts or links to other resources for employees to explore.
Social media platforms and blogs
Provide short messages, polls, surveys or videos through your organisations social media platform or blog posts as learning units or to promote discussion on sexual harassment.  These platforms could also be used to provide pre-training activities like pre reading, videos and quizzes.
Videos
Examples of video education resources currently available include:
Online articles and membership resources
Distribution of online and membership resources to your people:
Visual resources
Posters, fact sheets, flyers and stickers for your workplace. There are free resources available:
Podcasts
There are numerous podcasts relevant to sexual harassment and matters of gender diversity and power in the workplace. Examples produced by Australian law firms include:
Webinars
Some law firms and other organisations release free webinars on sexual harassment prevention and response. Examples include:
Chatbots
Organisations can create their own Chatbot tool, or use the Chatbot created by the Victorian Equal Rights & Human Rights Commission, Raise it!, to provide your workforce with a mechanism to obtain anonymous answers to questions about sexual harassment at work, support and response.
The Law Society of NSW have also launched an online portal that provides lawyers with information on the steps they need to take if they wish to report such incidents or behaviour.
Online games
Gamification of education content by including interactive game creation applications focused on sexual harassment. 
The International Training Centre of the International Labour Organisation has developed a sexual harassment at work online game that allows learners to recognise situations at risk, making them take action and decisions. 
Virtual and augmented reality
New technology which is premised on the basis that allowing employees to "experience" sexual harassment from the victim's point of view, and as a bystander, via virtual reality, is considered to be a way to effect real change. 
For example, Equal Reality  is a non-government developer of virtual reality for diversity, equity and inclusion training and has worked with a number of large organisations across Australia on sexual harassment training on sexual harassment, gender bias and culture bias.