What can you do if you witness sexual harassment in the workplace?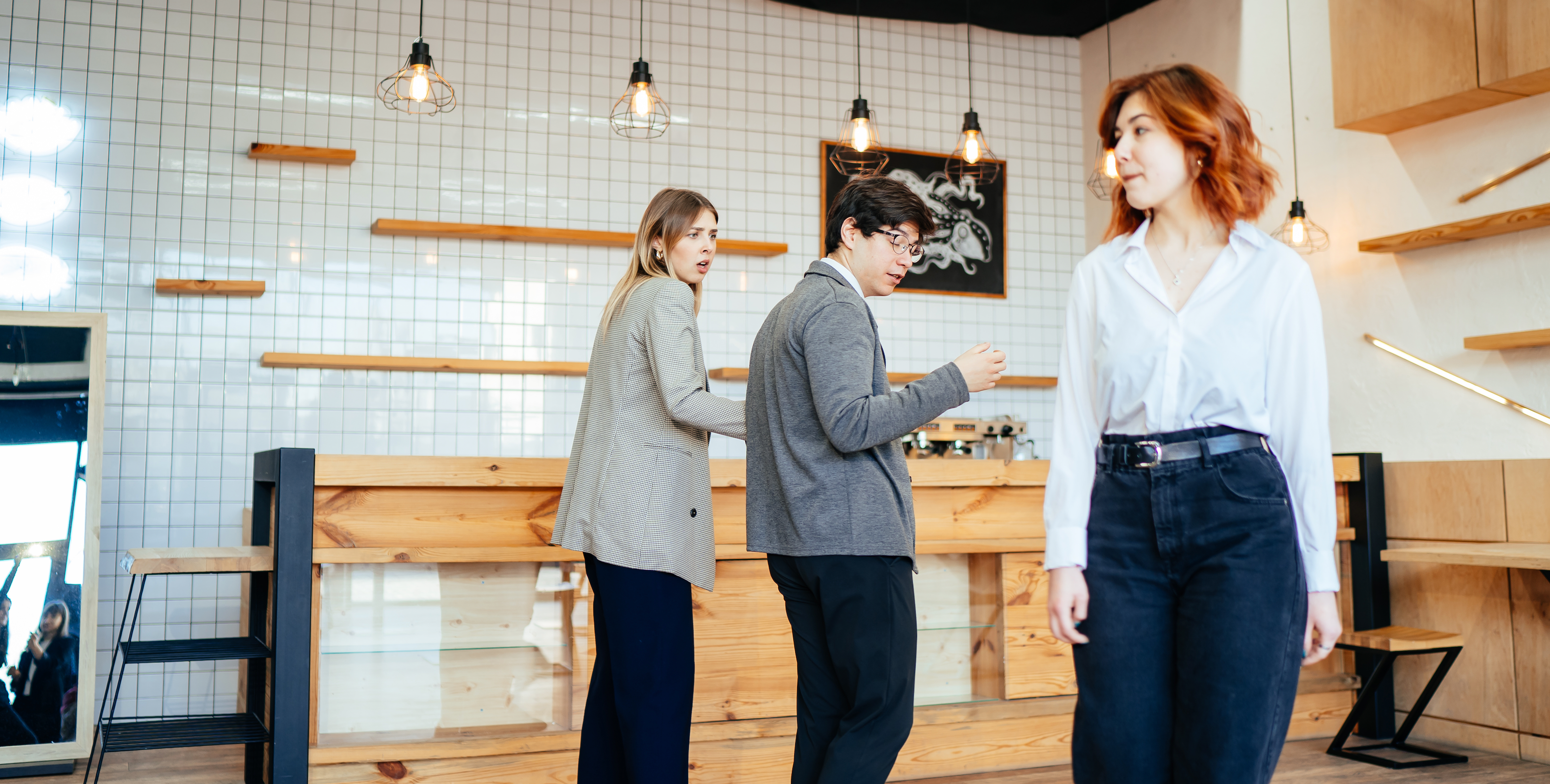 In the context of sexual harassment, a bystander is a person who observes sexual harassment firsthand or hears about it subsequently. 

In the workplace, bystanders can include co-workers who are informed of workplace sexual harassment through the 'grapevine' or are sought out by victims or harassers for support or advice. Bystanders also include a range of people formally authorised to receive reports of workplace sexual harassment, such as managers, supervisors, human resource employees or harassment contact officers.
Witnessing or hearing about sexual harassment in the workplace can be physically, psychologically and professionally damaging for a bystander. Negative impacts for bystanders can be similar to those of victims who directly experience sexually harassing behaviours. This has been referred to as 'ambient sexual harassment'.  Bystanders can be affected by an incident of sexual harassment, by an inadequate response from the employer, or by victimisation and bullying following an incident.  To understand more about the potential negative impacts of bystander actions click on the link below.   
The following is an adapted extract from the National Inquiry into Sexual Harassment in Australian Workplaces (2020) that discusses the potential negative impacts of bystander actions. 
Bystanders can experience significant adverse emotional impacts when they witness or hear firsthand about the sexual harassment of another person. Research on trauma has suggested that this 'vicarious trauma' or 'secondary trauma' can be similar to the symptoms of PTSD.
Dealing with the effects of someone else's suffering can affect a bystander's health. As one worker described:
Each time I laughed along with my own humiliation or kept quiet about the humiliation of another woman or marginalised person, I died a little bit more on the inside.
Negative mental health impacts on bystanders in the workplace through indirect exposure to sexual harassment can also lead to decreased job satisfaction and reduction in work performance, particularly where they perceive there has been a poor response from the employer. The Commission heard that a normalised workplace culture of sexual harassment and sex discrimination could make co-workers also feel devalued. 
A submission from a teacher described the impact on staff in a school environment where the principal bullied and harassed other female staff members, including making 'lewd and sexist' remarks to young female teachers:
While I was not subjected to sexualised comments or even bullying remarks, I became very conscious of the effect they were having on the staff. There was a highly sexualised atmosphere in the school. There was constant discussion about the principal's behaviour, mistrust among members of staff about existing privileges, a divided staff and discriminatory practices.
Witnessing or hearing about sexual harassment in an organisation can also create team conflict. Co-workers may feel compelled to 'take sides', particularly where victims or harassers are actively seeking their support or advice. The following example was provided by one victim in their submission to the National Inquiry: 
After the [harasser] was spoken with [by management], he … sent a group text message to many co-workers attempting to isolate me. I spoke to management and made them aware l was being isolated by the text message and it wasn't fair that he is still employed.
The Commission heard that a complaint of sexual harassment could also emphasise gender divides in male-dominated workplaces. A female electrician told the Commission in a consultation about the polarising effect of a sexual harassment complaint in her workplace:
[I]f you do have somebody making a complaint or even if it's just discussed amongst the workgroup, it then becomes a very gender thing, boys versus girls, why should we have women in the workplace, we are sparkies [electricians] anyway, all you do is bitch and moan and complain and we can't even have a joke anymore. We can't have any fun.
Some bystanders said they felt powerless to intervene. In submissions and consultations, the Commission heard that many bystanders feared the repercussions of reporting an incident of sexual harassment, including concern about the security of their own jobs. Bystanders may have observed a poor workplace response to a previously reported incident of sexual harassment, or fear they will be the next target, causing an erosion of trust in the workplace reporting system.
[Other senior officers in the organisation], well aware of this [senior officer's] predatory behaviour, did not provide witness statements. They buried their heads in the sand for fear of risking their careers.
While I nominated many potential witnesses within the agency who could attest to many of the claims I made, it became clear from the investigator that most had refused to be interviewed about the allegations. I subsequently found out that this was generally because they were afraid of what would happen to them and their careers if they did provide their allegations to the investigator.
The Commission heard that bystanders' fears of victimisation could be exacerbated in small communities:
I was a bystander and put my hand up to say this is not right because a colleague and friend of mine has been harassed and assaulted. Between us, there's at least 10 women that have come to us … nine of them are not prepared to come forward at all because of retribution: their reputation within a small country town. They're just not prepared because they've seen what's happened to me.
One worker, who described their own experience of being a witness in a case relating to a workplace incident, said the fear of being drawn into legal proceedings could deter bystanders from taking action.
The Commission also received submissions from workers at all levels who said they were victimised themselves because they intervened or spoke up on behalf of a victim of sexual harassment. One worker told the Commission that, 'As a result of my appropriate intervention, I was turned on and not supported; I was bullied by the alleged perpetrator and ostracised by some male colleagues  
Active bystanders can play a role in reducing the harm of sexual harassment and ensuring there is no tolerance for sexist or sexually harassing behaviours in the workplace. Here, we'll discuss some safe and practical strategies you can take if you witness sexist or sexually harassing behaviours. 
There are five steps to becoming an active bystander: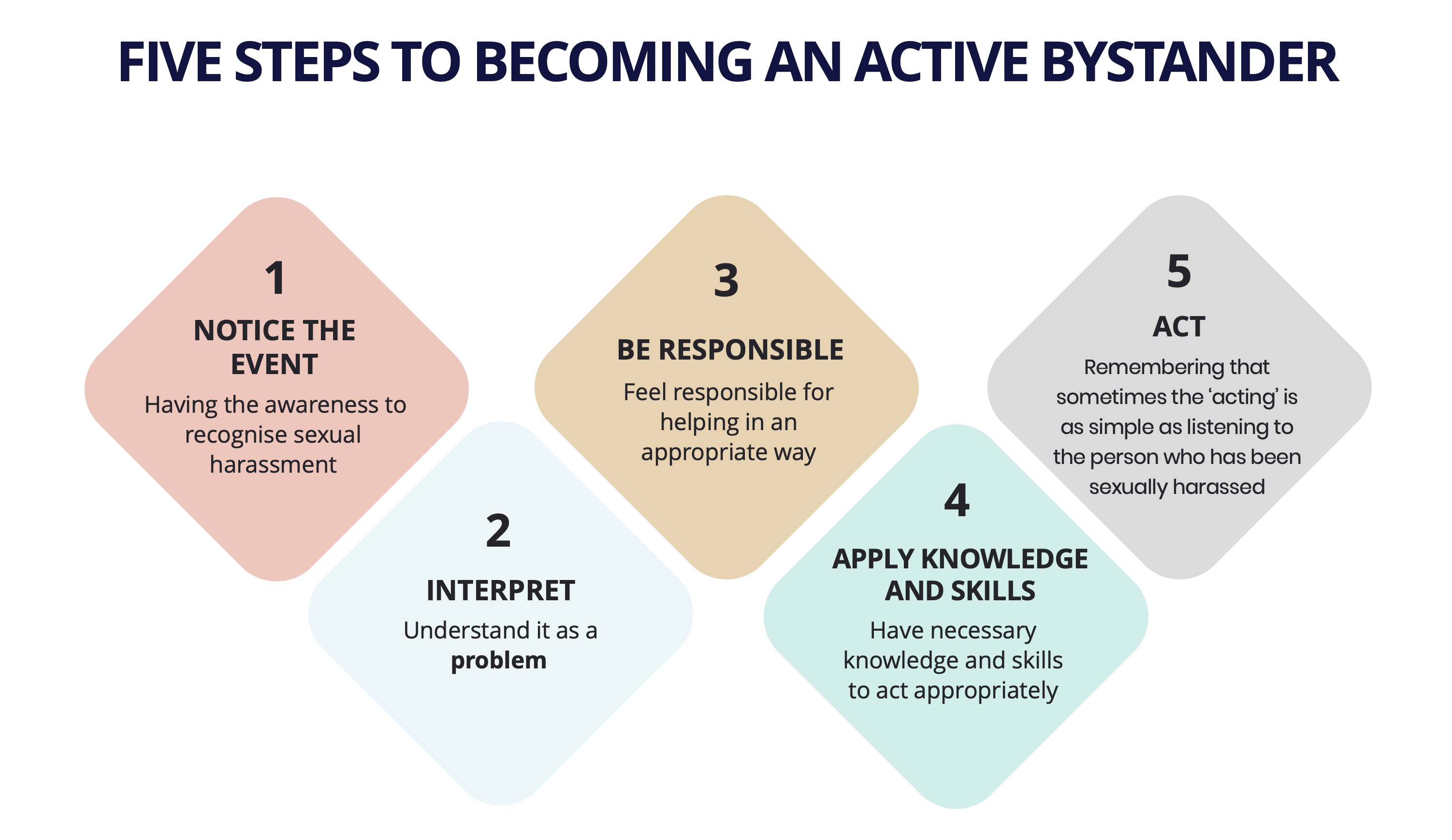 Notice the event
Naturally, some people are far more observant than others. We are all different in how we observe and notice things. Noticing what is happening and being aware of the situation involves careful observation, reflection and being present when incidents occur. Sexual harassment in the workplace can occur anywhere and between anyone - by individuals or within groups. Keep observing and noticing the situations where it occurs and watch for patterns of behaviour that may confirm that what you are observing is sexual harassment. 
Interpret
Understanding that what you are observing is a problem - that it could be sexual harassment - is the most important step to being an active bystander. You should not take any actions that puts you, or someone else, in danger. Think about your own perceptions and attitudes of others. Ask yourself would you behave in the same way? Would this kind of behaviour be acceptable if it were directed at a friend or family member? Do you feel uncomfortable in the situation? Is this behaviour a safety issue that needs to be addressed? Will any actions I take put myself or others in any danger?
Be responsible
Feel responsible for helping in an appropriate way - this includes understanding the role of a bystander and empowering the person who has been sexually harassed. Remember that there could be many others that feel the same way that you do but are reluctant to act. Being an active bystander means assuming responsibility and not relying on others. There are different ways to be an active bystander. VicHealth have developed the ladder of active bystanding that illustrates some practical bystander actions.  The actions higher up the ladder indicate higher levels of action than those below.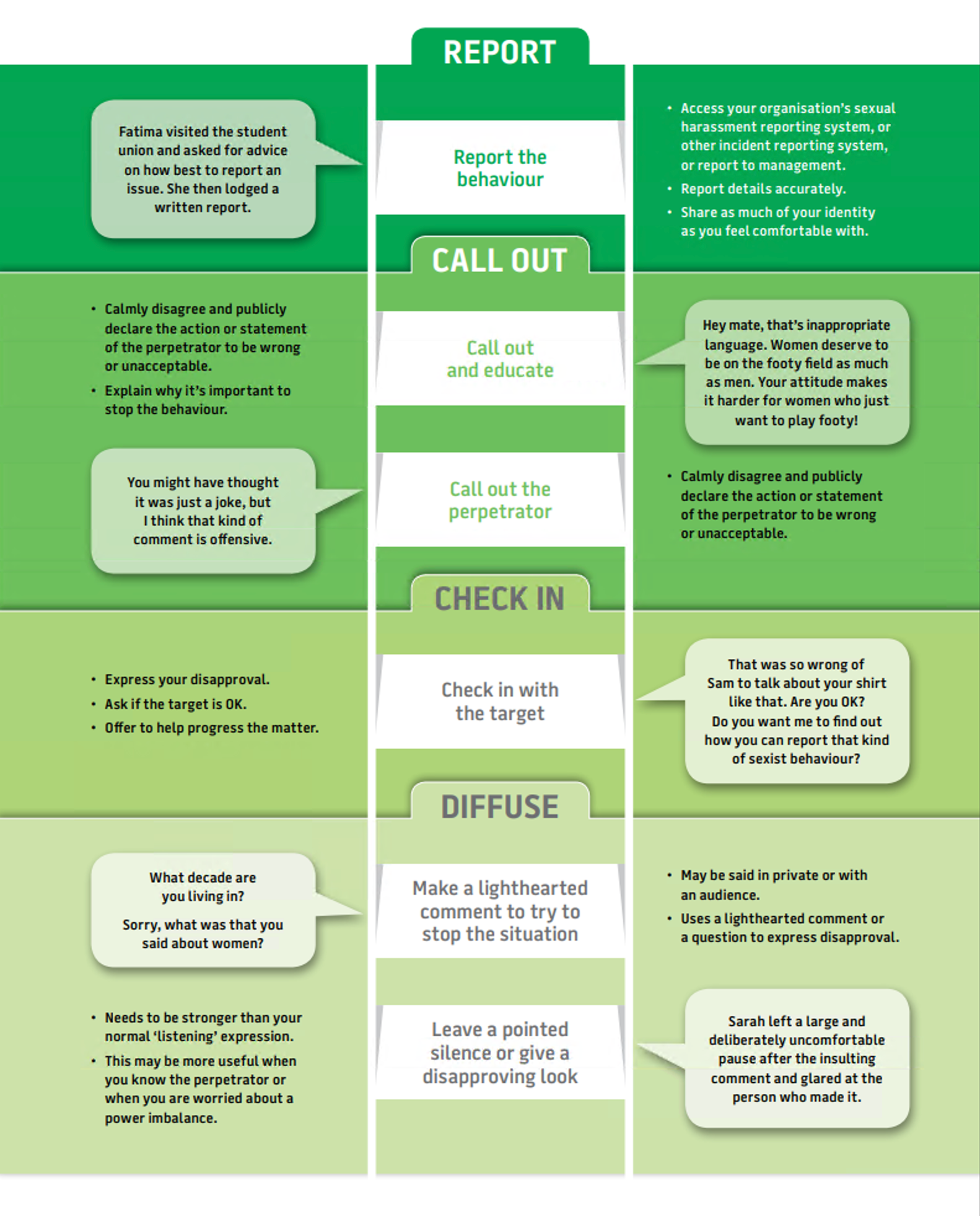 Diffuse: Light-hearted comment Making a light-hearted comment to try and stop the situation or express disapproval. This could be said in private or with an audience. This can also include giving a pointed silence or a disapproving look.
Check in: Check in with the person harassed Checking in with the person harassed to express your disapproval, ensure they are OK, and offer support. 
Call out: Call out the behaviour and education Calmly disagree and publicly declare the action or statement of the harasser to be wrong or unacceptable. 
Report: Report the behaviour If the person harassed agrees, support them to report the behaviour through the organisation's sexual harassment reporting system, or an external reporting system.   
Apply knowledge and skills
Use your knowledge and skills to decide what is the appropriate next step. If necessary, take a little time to reflect and consider what your options are. Offering support to the person harassed - and listening to their concerns and wishes - will help determine the next step.   
Act
This could mean formally reporting the incident if the harassed person agrees, or it could be as simple as listening to the person who has been sexually harassed and asking them what support they would like.