Collecting and using data
This section explores the phases of an effective measuring process – data collection, analysis, communication, action and refresh.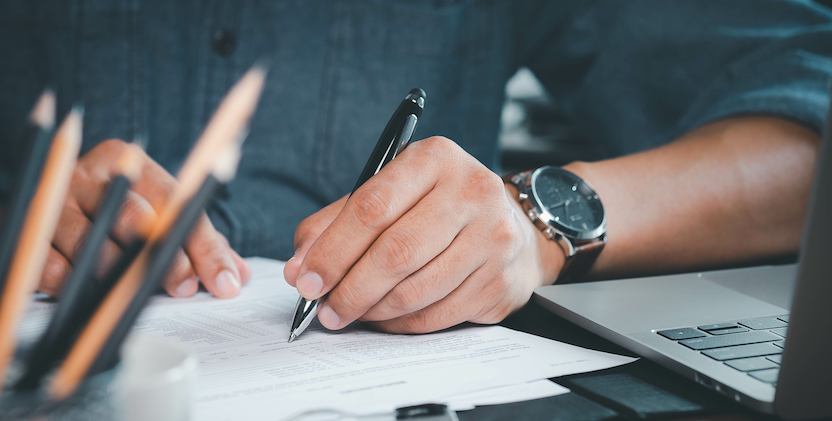 We know that the efficient and effective collection of data on sexual harassment informs policy and practice on multiple levels across industries and workplaces. Data is the platform on which much reform and change can occur. It provides an evidence base on which organisations can build prevention strategies. Data collection, such as surveys, do not replace consultation. Consultation is required under WHS laws and workers must be consulted on the method of consultation. 
What doesn't get measured doesn't count and what doesn't get measured…cannot be fixed  

Iris Bohnet (Thoko Moyo, Iris Bohnet, 'Fixing Ourselves Is Hard: Iris Bohnet on Solving Bias in the Workplace', Harvard Kennedy School Policycast (Podcast, 16 October 2019)
The process of collecting data, however, can be a serious challenge for many organisations, particularly small businesses. While some organisations may have limited capacity to collect specific data, they can still learn from data that is being collected at the industry, professional or sector level. Workplaces across industries have similar working conditions and cultures, common workforce demographics and work environments.   
Australian industry and professional bodies, unions and organisations from different sectors are increasingly taking a lead in collecting their own data to better understand workplace sexual harassment across industries, professions, and sectors. Many have used data collected through surveys of their members to develop industry, profession or sector-wide strategies to combat sexual harassment and accompanying practical resources and initiatives to support their members to address it. Here are some examples:  
There is also Everyone's Business: Fourth National Survey on Sexual Harassment in Australian Workplaces (2018) that paints a comprehensive picture of the nature of sexual harassment in Australian workplaces, that all organisations can learn from. 
Data collection at the workforce level
Many organisations do collect data about the prevalence of sexual harassment that is specific to their workplace. They use a variety of sources to collect data. Take a look at the summary below of key sources organisations can use to collect evidence of workplace sexual harassment (adapted from WorkSafe New Zealand Advice for Small Business).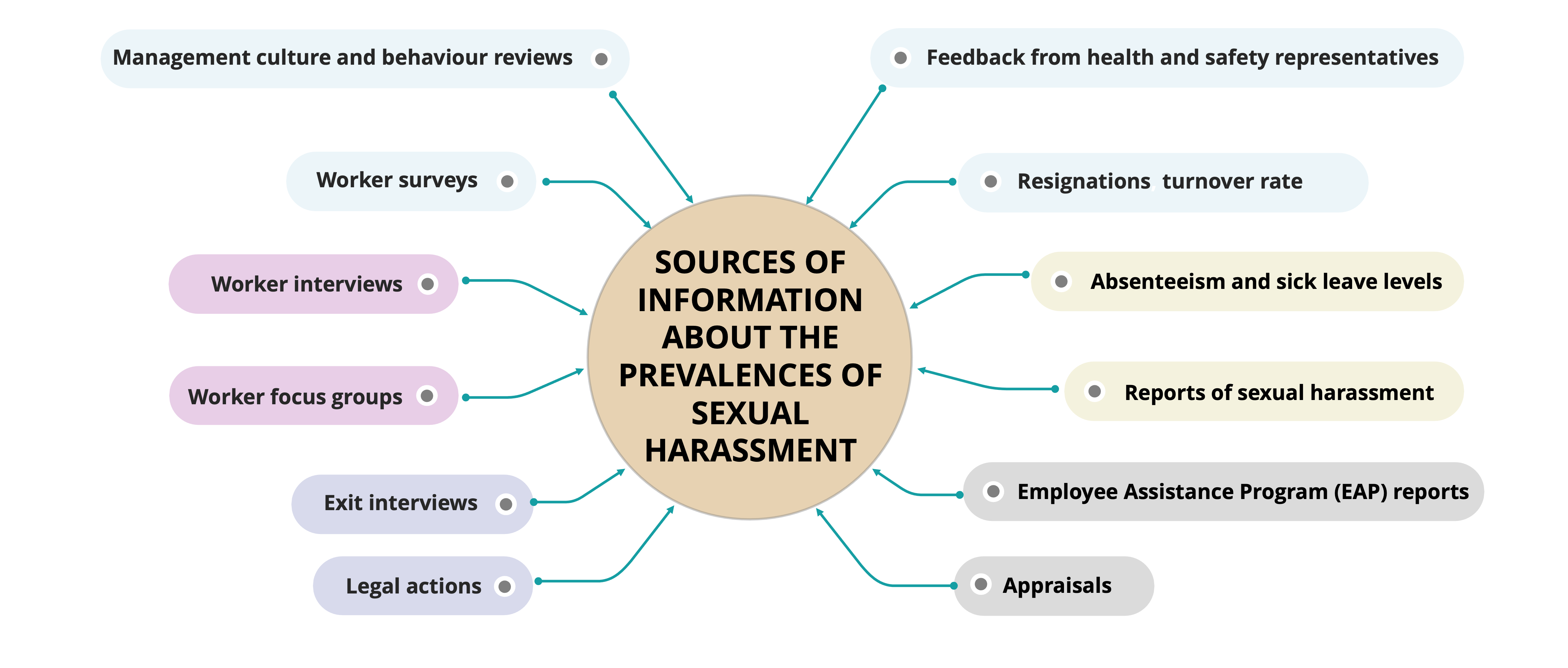 As an employer you can use all these sources of information to better understand the prevalence and nature of sexual harassment in your workplace. You can:
seek feedback from health and safety representatives and officials specifically on culture and sexual harassment concerns.
look at resignation rates and staff turnover as a succession of resignations and high staff turnover rates from particular work areas may indicate problems with sexual harassment.
check absenteeism and sick leave to check if there are clusters around particular work areas or workers.
analyse formal complaints, legal actions and reports of sexual harassment.
conduct worker surveys to gain insights on sexual harassment specific to your workplace, always respecting individual confidentiality. An example worker survey from the Minerals Council can be found here.   
use Employee Assistance Program data that can provide useful general data on worker concerns and issues.
conduct manager or supervisor performance reviews that include anonymous appraisals from co-workers and peers.
gain information from worker exit interviews on workplace culture.  
use confidential worker interviews to gain valuable insights into particular issues or work areas.
conduct management culture and behaviour reviews.
Another option could be to conduct worker focus group sessions to explore issues and concerns. Conducting worker focus groups, however, needs to be considered carefully with respect to sexual harassment.  There are potential pitfalls that include the possibility of re-traumatising victims, experiencing backlash and collusion. Without careful planning and expert facilitation, focus groups that discuss sexual harassment directly should be avoided. Rather, focus group sessions could be conducted on general workplace culture or power imbalances or gender equality in the workplace.
If you are considering worker focus group sessions there are some useful guides and help available:
While these sources of information can provide some valuable insights into the nature of sexual harassment, in addition to the prevalence, organisations should be aware that the number of complaints cannot be used as an entirely accurate measure of prevalence, given the under-reporting of sexual harassment. Even where workers raise concerns about sexual harassment, these may not ultimately be recorded in compliant statistics. This is similar to Informal reporting, which may be resolved but not included in workplace complaints data. 
Conducting worker surveys and interviews
It's important to ensure that methods of collecting data through worker surveys is safe and does not put workers at risk of harm. For example, evidence must not be collected in a way that identifies victims or harassers, or that risks re-traumatisation of victims. When conducting staff surveys, it is important for employers to think about the questions they ask their workforce. UN Women have noted that:
 Asking what participants have observed is a safer strategy than asking them to discuss what they have experienced. (Purna Sen et al, 2019)
It is more useful and appropriate for employers to ask general questions, designed to provide insight into how comfortable and likely workers are to raise concerns directly with their manager or employer. For example, employers may ask 'how frequently does your manager meet with you to ask you about any concerns you have about work?' and 'how often does your manager talk to you about our workplace behaviour policy?'  
By asking such questions, organisations can understand more about workers' experiences as well as factors that could contribute to a greater risk of sexual harassment occurring or going unreported. Such data could then be used by employers to modify the practical approaches they take in the workplace and increase the likelihood of workers promptly raising any workplace concerns, including concerns about sexual harassment.  
It is also important for organisations to collect data regularly to allow them to monitor trends over time, identify emerging risks and measure the effectiveness of any actions they take to address sexual harassment (for example, the implementation of a sexual harassment policy or training at a workplace) and adjust or introduce new measures accordingly.
Any survey responses collected should be de-identified and respondent confidentiality maintained. Workers may be more willing to share information through an anonymous survey rather than an interview, however the size of the organisation may affect how identifiable the respondents to the survey really are.
Surveys collecting data from both victims and witnesses/bystanders to sexual harassment on what they have observed and experienced are useful, whilst avoiding re-asking victims to recount their experience multiple times and re-traumatising the victim.
Be aware that workers may be from culturally and linguistically diverse backgrounds and that it may be necessary to develop surveys in languages other than English - and interviews with translators.
When undertaking interviews, all interviewers should be provided with specific training on recognising if a respondent is becoming distressed or appears to be uncomfortable about continuing with the interview. When undertaking the interview, the interviewers should alert participants to the nature of the questioning, the possibility of distress and advise participants of available support services. For example, the preamble to the telephone survey for the 4th national sexual harassment survey was - "Participation in this survey is completely voluntary, and you can stop or withdraw at any time. If you find any part of this survey distressing or upsetting I am able to provide you with a list of support services you may wish to speak to."