Transparency sends a clear message about your organisation's stance on sexual harassment and its commitment to accountability, ethical conduct, diversity and gender equality.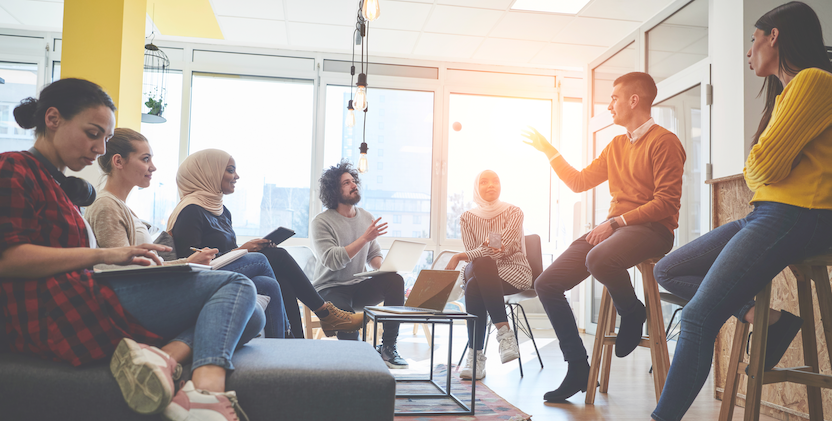 Transparency is a critical component of a successful sexual harassment prevention and response strategy. Outlined below are steps your organisation can take to enhance internal and external transparency about sexual harassment while also balancing the need to protect the privacy of your people.
Currently, information about sexual harassment is not widely shared or discussed either within Australian workplaces or externally. Traditionally, organisations have viewed sexual harassment primarily as a source of legal exposure and reputation risk. Yet, there is growing recognition that increased transparency can drive accountability and improved outcomes for the whole organisation, including victims.
Transparency sends a clear message about your organisation's stance on sexual harassment and its commitment to accountability, ethical conduct, diversity and gender equality. It sets the tone for expected behaviours, normalises discussion about sexual harassment and builds a culture of trust, respect and safety, where people have confidence that these matters are taken seriously.
Transparency in the context of sexual harassment means an organisation is:
Open about the existence of sexual harassment in workplaces and strategies to prevent it.
Visible in action being taken to prevent and respond to sexual harassment.
Honest with workers and other stakeholders (internal and external) about circumstances and outcomes in certain cases.
Fair in ensuring that transparency does not interfere with natural justice or compromise the integrity of processes underway to address reports of sexual harassment.
Supportive of its people, recognising that transparency about an incident (in any form) may impact the health, safety, and wellbeing of those involved.
Internal transparency
Internal transparency is about being open with your workforce and business leaders about sexual harassment prevalence, prevention and response. It can include:
Sharing information with the board and senior leaders
Information about sexual harassment should be regularly shared with those who are primarily accountable for sexual harassment risk. For some organisations this will be your board of directors, a sub-committee of the board and/or executive management team, and for others it will be your senior leaders. Similar principles apply to all groups, which will be referred to as 'Board and Senior Leaders', for ease of reference here. Also note that some senior leaders will be officers under WHS laws and have a specific duty to exercise due diligence to ensure the organisation meets their WHS duties.
Every organisation's Board and Senior Leaders will have different needs when it comes to information about sexual harassment. As such, it is important to spend time identifying those needs and determining which data points and metrics will be most illustrative, and the frequency with which the information will be provided. Some general guidance includes:
Information should be sufficient to enable your Board and Senior Leaders to fulfil their oversight obligations, monitor and assess the effectiveness of systems and frameworks in place in your organisation to manage sexual harassment risk, and to help inform any further action required.
Information should be holistic, recognising that sexual harassment is a systemic issue rooted in gender inequality and power imbalances and that reliance on data relating to reports of sexual harassment alone will not provide an accurate account of what is occurring (noting that less than 20% of workers who experience sexual harassment will report the incident).
Specific information should be provided about any incidents of sexual harassment that constitute a material breach of the code of conduct or any reports of sexual harassment under the whistleblowing policy (noting the strict anonymity requirements under the Corporations Act, this must be disclosed on an anonymous basis). For listed entities which seek to adhere to the ASX Corporate Governance Council's Corporate Governance Principles and Recommendations, it is essential that this information is provided to the board or sub-committee of the board.
Information should be provided regularly.
Case details should be anonymised to protect the identity and privacy of people involved.
Transparency with your workers
It is important that your organisation is transparent with your workforce about the prevalence of sexual harassment, and your commitment and actions to prevent and respond to it, including accountability. Practical ways to enhance transparency include:
Communicate your commitment, strategy, and goals:
Share your organisation's strategy for prevention and response to sexual harassment with your workforce, including your short-term and long-term goals and a zero-tolerance approach. As you progress through your strategy and achieve goals, keep your workforce updated.
You may also wish to develop a leadership position statement which succinctly illustrates your organisation's position on sexual harassment and how it will act to prevent and respond if an incident occurs. The Champions of Change Coalition have a good example on their website.
Another way that you can communicate your organisation's commitment and is through taking a public pledge to demonstrate your position on sexual harassment. An example of this is the Diversity Council of Australia (DCA) who are asking member organisations to take the #IStandForRespect pledge to stand against gendered harassment and violence in all its forms and to commit to taking steps in their organisation to address sexual and sex-based harassment, to make the workplace safe for everyone.
Communicate regularly about prevalence:
Regularly share information with your workforce in a structured way, including de-identified and aggregated sexual harassment data. For example, you could share the number of reports of sexual harassment, what steps were taken to resolve complaints, how long the process took, and consequences for offenders.
Facilitate opportunities for your people to discuss this information, provide feedback and ask questions. This could be done through online forums, suggestion boxes (virtual or physical), regular team meetings, 'toolbox talks' or any other way your leaders and workers engage to discuss matters of culture, safety, support and behavioural expectations.
Transparency following incidents:
Where incidents of sexual harassment arise, it is important that organisations do not shy away from using them as an opportunity to share learnings, reinforce behavioural expectations, educate workers and build a culture where people feel safe and supported to speak up. Equip your leaders with the tools and capabilities to have these conversations effectively with their teams and to prepare impactful and transparent communications – there are some useful resources available in our Micro and Social Learning section, that includes links to useful resources such as:
Transparency about mistakes and systemic issues:
Be transparent about mistakes that have been made and communicate how they will be addressed. This may include issuing a statement recognising the issues or mistakes and committing to actions to resolve. A useful example has been developed by the Champions of Change Coalition, including annotations for how to structure your communication – a template is included in our Risk Management Processes for Sexual Harassment section for download. 
Balancing confidentiality and transparency during and after a matter
While we know that transparency is important and offers significant benefits for victims, as well as the broader organisation, maintaining confidentiality and privacy remain relevant and have an important function when incidents of sexual harassment arise.
Confidentiality in the context of a sexual harassment matter means details of the issue, including identity of parties involved, will only be disclosed to those who are involved in actions to address and resolve it, to ensure physical and psychological safety at work. Confidentiality protects the identity of parties and ensures indirect factors don't interfere with fair and reasonable investigation processes and outcomes (which is particularly relevant for cases which might attract public or media attention). It is a key pillar of natural justice and is important to ensure the integrity of processes are upheld.
It's important to adopt an approach where:
During a matter
Confidentiality and privacy should be strictly maintained while a report of sexual harassment is being addressed.
People involved should not be prevented, at any time, from discussing details with medical professionals or counsellors, legal advisers, the police or members of their immediate family or other support persons (who also must maintain confidentiality). 
After a matter is finalised
Your organisation should not restrict a person's right to speak about their experience in their personal capacity. Those who have experienced sexual harassment or made a report of sexual harassment should be free to tell their story. Each person will need to consider the personal implications for themselves, including potential defamation proceedings.
When determining the approach to the sharing of information, your organisation should understand that details of specific incidents may trigger or create safety concerns for some people – be person-centred and safety wise in your approach. 
The victim and any other people who were involved in the matter should be made aware of the intended communication before it is made – it is important to discuss, be open to feedback, and provide support. 
Your communication should be:

Honest and safety focussed
Create linkages between what occurred and how it was resolved (including how people were supported)
Reinforce your organisation's zero tolerance approach, prevention and response strategy.
Not seek to cover up mistakes or shutdown difficult questions or criticism from your workers.
External transparency
Practical ways to enhance external transparency in relation to sexual harassment prevention, response, prevalence and accountability are outlined below:
High profile cases
Develop and commit to a set of principles of transparency and confidentiality for when high-profile sexual harassment cases arise. High-profile cases are generally those that involve allegations of sexual harassment (often against a senior leader) where an investigation is necessary and where there is legitimate public or stakeholder interest in the matter.
Being open and taking accountability around these matters, particularly if serious sanctions are imposed on the leader, can help rebuild trust and respect within your workplace and with your external stakeholders (investors, customers, clients, contractors) and the community in general. These matters therefore raise the need for both internal and external transparency.
The Champions of Change Coalition has developed a set of seven principles which outlines an approach to communicating about these high-profile sexual harassment cases and serves as both a preventative mechanism and a practical, reactive guide.
Champions of Change Coalition Principles on confidentiality and transparency for high profile sexual harassment cases

Our organisations will be transparent with internal and external stakeholders about the fact that sexual harassment claims exist.
The identity of those involved will be protected by our organisations at all times during the investigation process.
We will ask everyone involved to keep any workplace investigation process confidential while that process is underway with an exception for receiving expert counselling support.
Once any investigation is complete, our organisations will not restrict the complainant's right to speak.
When there is a legitimate public or stakeholder interest and an investigation has found that allegations are substantiated, our organisations may identify the offender.
Where an investigation has substantiated the allegations, we will be transparent about the outcomes and where an alleged offender leaves our organisation, we will be transparent about the fact of any financial settlement as part of that departure.
If a financial settlement is reached with the complainant, the fact of the settlement will be disclosed by our organisations to relevant stakeholders, together with the restrictions it imposes but not the amount.
Public commitment
Share your strategy and commitment to sexual harassment prevention publicly. If you develop a leadership statement of commitment for your workers it may be helpful to share this publicly too.
Find opportunities to reinforce and embed your commitment. Examples include:
Actively engage in discussion on social media platforms, such as LinkedIn, about workplace sexual harassment
Contribute to and participate in studies, surveys or industry led initiatives and industry-based reporting on corporate culture and sexual harassment
Share your approach at networking events
Highlight your approach with any relevant union(s).
Company Reporting
Include information in your organisation's annual report and/or sustainability report about sexual harassment prevalence, prevention and response. There is currently no mandatory approach to the information that must be included, however, information that could be considered for disclosure include:
board and board sub-committee discussions on the topic of sexual harassment
gender balance on board, or target date for achieving gender balance
director expertise, or access to expertise, in relation to gender, culture and/or the effective prevention and management of sexual harassment, including appropriate training
gender balance at Executive Management Team (EMT), or target date for achieving gender balance
EMT expertise, or access to expertise, in relation to gender, culture and/or the effective prevention and management of sexual harassment, including appropriate training
systems and frameworks in place to support gender equality and prevent and address sexual harassment, including reporting channels and complaint resolution processes, availability and use of anonymous reporting channels, participation in industry initiatives in relation to sexual harassment and gender equality, use of trauma and gender informed expertise in complaint management
effectiveness of systems and frameworks in place including:

numbers of education interventions for staff in a year (on average) on sexual harassment, bullying, code of conduct, culture
collection of data in relation to sexual harassment and workplace culture

sexual harassment prevalence rates based on surveys
complaint data and comparison to industry average rates of sexual harassment, and use of reporting channels (including anonymous reports)
complaint resolution timeframes and satisfaction levels (after 0, 6, 12 months)
complaint mechanisms for sexual harassment, including complaints by and about staff, board, senior leaders, contractors, and members of public
numbers of relevant separations with confidentiality terms (or Non-Disclosure Agreements).
Other considerations include:  
Providing data over multiple years to demonstrate progress (or lack of progress) 
Including explanations for material changes year on year or over time periods. For example, an increase in reported sexual harassment matters may be due to increased prevalence or increased reporting arising from improved formal and informal channels available to employees. Contextualising metrics in your company's disclosure helps stakeholders understand reasons for changes over time.